PLAN Chakwal: Using the PPI Beyond Microfinance >
Awais
•04/01/11
• 0 Comments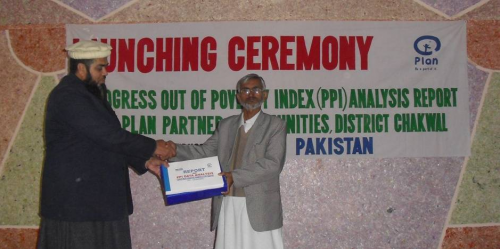 In the Punjab section of Pakistan, just south of Islamabad, is the district of Chakwal—a focal point for an innovative community development effort based on poverty measurement. Since May 2010, no fewer than 68 villages surrounding Chakwal have been participating in a new initiative to help the poorest among them. The program, Plan Chakwal, supported by microfinance network Plan International, has been leading the way in using the Progress out of Poverty Index (PPI) to guide its community development work.
Led by Shabbir Hussain, Plan Chakwal's livelihood coordinator, and Aziz Malik, Plan's community development facilitator, Plan Chakwal over a three-month period (June, July and August, 2010) collected 18,003 PPI scorecards from the 68 villages, using a census approach. Because these villages have local community base organizations (CBOs) to follow through with community development work, they were chosen for PPI data collection.
The program goal is twofold:
to use the PPI to target poor households which will receive development programs including health, education, livelihood and microfinance, and
to encourage the district government to use the PPI to target poor households for safety net and social development programs.
To carry out this two-pronged goal, Plan is building the capacities of village-level CBOs to ensure that all available programs reach poor households, and it is working with the district governments to use PPI results to initiate and expand its development programs.

As a first step toward meeting its goal, Javed Khattak, Manager of Plan Chakwal, in December 2010 presented an analysis of its PPI data collection to Kousar Bilal, District Social Welfare Officer, and other district stakeholders as well as all village CBOs (see photo above). The analysis includes the poverty likelihood of each household in the 68 villages, the poverty rate of each village, and data on eight additional social indicators along with their relationship to poverty rates.
As part of the presentation ceremony, participants—mostly representatives of CBOs who assisted with data collection—assembled into small groups to assess how the PPI results might affect their particular needs. The groups were: community women, community men, partner organizations, and government officials. Each group produced a series of actions needed, such as "more attention paid to the education of children, especially girls" from the women's group, and "assessment of ongoing interventions with poor families" from the partner organizations. Next steps will include building the capacity of CBOs to address the recommended actions as well as encouraging the district government to do the same. Plan Chakwal got started with the commitment and support of Plan Pakistan. Plan trained two representatives from each CBO and several other stakeholders—147 individuals in all—to carry out PPI collections. Because the collectors were local, the cost of the collection itself (including printing, allowance to CBOs, and monitoring, etc.) was extremely low--35 cents per PPI. The total cost of data entry and analysis was $4046. At an average cost per scorecard of 65 cents, with 18,003 scorecards, the total cost of the collection was $10,464.
Looking ahead, CBOs will evaluate whether social programs are reaching the poor households identified by the PPI and they will continue annual PPI collections.
Plan Pakistan will expand the use of the PPI for its development programs into other districts, using the PPI to measure poverty.
Muhammad Awais is a guest blogger on the Progress Out of Poverty blog. As the Regional Microfinance  Programme Specialist for Plan International in Asia, Awais focuses on helping integrate social performance metrics into Plan International's work. He brings a great perspective from the MFI practitioner as well as from the network level of how to integrate SPM tools like the PPI into operations. He is based in Bangkok.
0 Comments