ASKI: Diligence in Poverty Measurement >
Lindsey Longendyke
•03/26/14
• 0 Comments
For organizations that serve families living in poverty, a misinformed decision can squander limited resources or overlook an opportunity to help a family in need. That is why Grameen Foundation promotes the Progress out of Poverty Index, or PPI. Poverty data can help an organization's management team make better decisions in the interest of the poor. However, PPI data is only useful if the organization has adopted best practices to ensure accuracy and the management team is willing to respond to findings.  
Last Spring I was fortunate enough to visit Alalay Sa Kaunlaran (ASKI) Inc., a Philippine microfinance institution with 134,000 clients, 41 branch offices, and over a thousand employees. During my visit I met with the Executive Director, the research team, and a group of loan officers, all of whom implemented best practices related to the PPI. It was clear that from top to bottom, ASKI is committed to understanding the families it serves.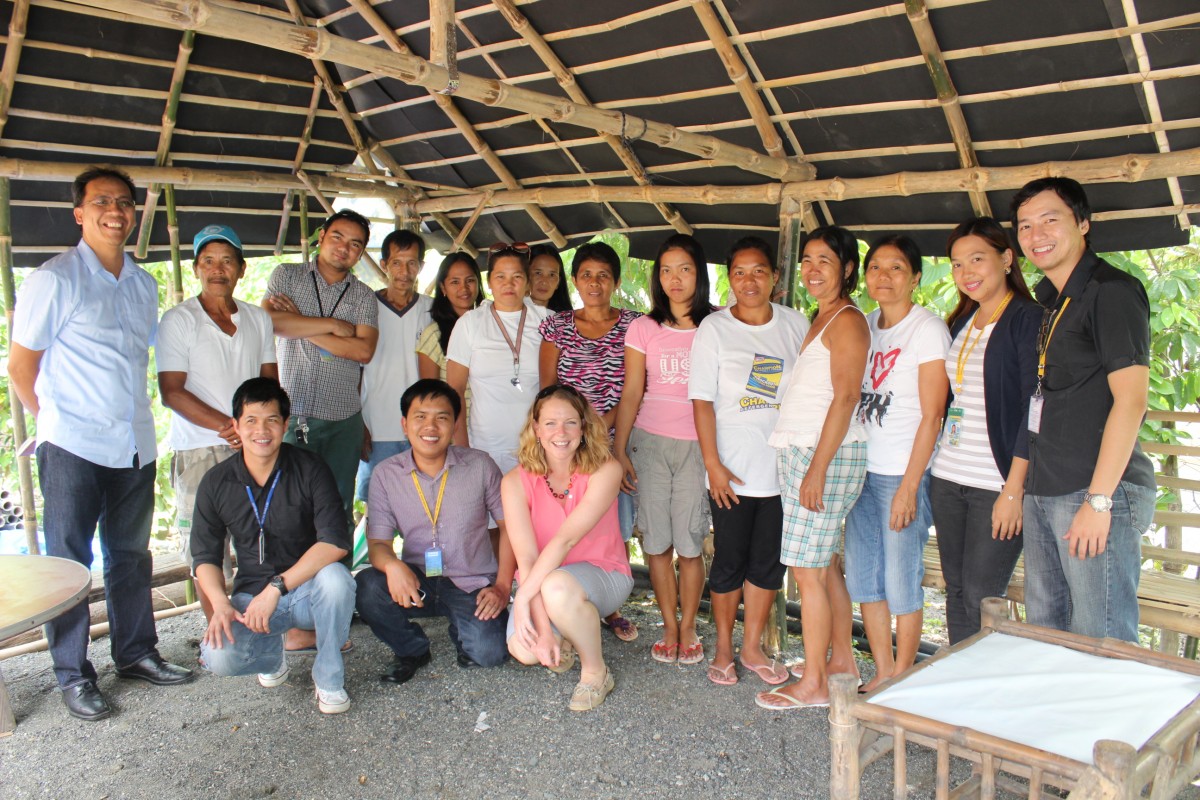 ASKI and Grameen Foundation staff pose with a group of rice farmers who use ASKI's support services. 
Leadership
ASKI's vision statement, which is framed on the wall in the executive conference room, reads "A global development organization committed to holistic transformation." Rolando Victoria, ASKI's Executive Director, explained that all people share the same basic needs: clean water, food, clothing, housing, and to feel included in their community. ASKI is primarily a microfinance institution, which strengthens the local economy by providing financial services to microenterprises and small businesses. However, ASKI also helps its community members to meet their basic needs in other ways. They provide fresh drinking water, they organize community development initiatives, they provide business training, and more. Mr. Victoria described these programs as all in pursuit of "holistic transformation," where the poor and the suffering are able to meet their basic needs and eventually lift others up as well.
For Mr. Victoria, ASKI's microfinance services must be accessible and useful to those living below the poverty line in order for ASKI to achieve its mission. Some executives might be comfortable resting on assumptions, but Mr. Victoria would rather be guided by objective data. In 2008, ASKI's staff piloted the PPI and learned important lessons about the tool. ASKI's management approved full implementation of the PPI in 2009, and since then ASKI has created operational systems around poverty data collection and management, and embedded the PPI questions into ASKI's MIS (management information system).  As a result, Mr. Victoria continuously has access to poverty data that helps him assess his organization's social performance. Mr. Victoria is an important stakeholder in ASKI's PPI efforts.
Research Team
In my conversation with the research team, I realized how well ASKI has "operationalized" the PPI – that is to say, how well they have embedded poverty data collection and analysis into their business operations. Here are just some of the PPI best practices that are implemented at ASKI:
All incoming microfinance clients are surveyed with the PPI. We call this the "census" approach. The PPI survey is simply included in the paperwork that must be completed on all new clients.
Clients are surveyed annually so that ASKI can track client poverty over time.
ASKI is actively tracking its poverty outreach, a key social performance metric. When PPI data showed that ASKI's poverty outreach was lower than they wished, ASKI's management team started exploring strategies to better target the poor.
ASKI segments their customer base to examine how poverty intersects with geography, branch, product, gender, and other criteria. They have developed an interactive reporting dashboard to display this data for management.
ASKI benchmarks its data to national and regional averages. This helps them to understand what their poverty outreach goals should be.
ASKI has shared data and tips with other organizations that use the PPI in the spirit of reaching their common goal.
Loan Officers
The loan officers are the employees who interact with clients on a daily basis. They visit the clients' homes, meet their children, and see their livelihoods. They are the ones who administer the PPI survey.
I visited an ASKI branch office. The small lobby was crowded with clients and loan officers; paperwork shuffled and cash changed hands. The branch manager showed me the small stack of paper forms that must be completed for all new clients, and tucked inside was a page with the PPI questions. Each loan officer administers this survey hundreds of times.
We found a corner of the branch office to sit down, and then about 15 to 20 loan officers were pulled over to talk to me. It didn't take me long to conclude that these employees do not rush through the PPI survey carelessly or absent-mindedly. They take the responsibility of collecting poverty data very seriously and seized the opportunity to ask me tough questions about how the scoring system works.
A few officers described how keeping a friendly and caring relationship with clients makes the surveying process easier. Instead of reading the questions off in a list, the officer can work them into conversation. One officer pointed out to me that it is often embarrassing for the client to answer a question on the scorecard about the household's type of toilet facility. Instead of inflicting embarrassment, the loan officers might simply ask to use the bathroom. Loan officers must be well trained to weave the PPI questions into a conversation while keeping the phrasing and interpretations exactly as instructed.
Putting it all together
Of the many organizations we work with, ASKI is a leader because it has invested the time, resources, and effort into fully integrating poverty data collection and analysis into its daily operations. This commitment makes it possible for the organization's leadership to make more confident decisions about the organization's practice and strategy. At ASKI, they are motivated by a clear vision, but informed by clear data.
***
Lindsey Longendyke is the Communications Officer for the Social Performance Management Center at Grameen Foundation.
0 Comments