InterMedia's International Poverty Measurement Experience >
Lindsey Longendyke
•04/02/14
• 0 Comments
InterMedia is a nonprofit organization that specializes in research and evaluation. InterMedia has partnered with the Bill and Melinda Gates Foundation's Financial Services for the Poor program to research how people – especially the poor – make use of mobile money and other digital financial services. This program, called Financial Inclusion Insights, is studying how people access and use digital financial services in eight countries: Kenya, Nigeria, Tanzania, Uganda, Bangladesh, India, Indonesia, and Pakistan.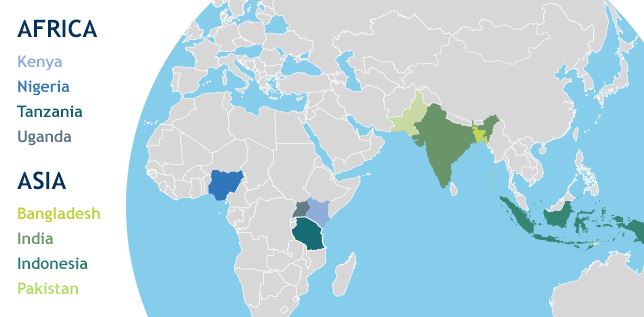 Poverty is a key dimension to this research; InterMedia must determine how poverty affects access to digital financial services, and whether these services are helpful or relevant to the poor.
InterMedia needed a poverty measurement tool that could provide comparable results across all eight countries. In past projects, InterMedia assessed poverty by administering lengthy household consumption surveys. InterMedia switched to the PPI because the PPI contains only ten questions and can be administered in five minutes. Since the PPI measures poverty relative to internationally-recognized poverty lines, InterMedia can compare poverty rates among countries and easily communicate findings to stakeholders.
InterMedia began surveying individuals for the Financial Inclusion Insights program in September, 2013. The samples in each country are nationally representative, varying from 3,000 individuals in Kenya to 45,000 individuals in India. In addition to the PPI indicators, InterMedia is collecting data on demographics and usage of digital financial services. The entire survey includes over 100 questions, ten of which make up the PPI.
On a project of this scope, ensuring the accuracy of the data, including the PPI questions, is essential, and InterMedia takes many steps to ensure data integrity both before and after the survey is administered.  InterMedia conducted multi-day training programs with survey enumerators to ensure the respondents were chosen correctly and the questions were asked properly.  In addition, InterMedia undertook extensive quality control measures after data collection to ensure the final dataset accurately captured respondents' answers.
InterMedia analyzes the data in its offices in Washington, DC, London, and Nairobi. Over the next two years, the Financial Inclusion Insights team will disseminate the findings through published reports, events in DC, London, and survey countries, and through an online data portal that allows online data analysis as well as requests for the full datasets. The first report, the Kenya QuickSites report, is now available. The report is a great resource for practitioners looking to provide mobile money or other digital financial services in developing countries, or anyone who wishes to see examples of how the PPI can aid research on an international scale.
0 Comments