Injaro Moves Towards Using PPI as Basis for Value Creation >
Injaro
•06/15/17
• 0 Comments
Injaro's current fund, Injaro Agricultural Capital Holdings Limited (IACHL), with US$49 million under management, was established in 2012 to invest in small to medium size companies along the agricultural value chain in West Africa. With investments in ten companies located in Ghana, Côte d'Ivoire, Mali, Burkina Faso, and Niger, IACHL is the largest fund investing 100% of its funds in the West African agricultural sector. We aim to become the premier conduit for capital to SMEs in West Africa by supporting entrepreneurs in developing strong businesses that will be a catalyst for economic growth and improve the livelihood of the communities in which they operate. We will achieve this by deploying capital efficiently and by actively developing our investees to generate strong returns for our investors and sustainable impact within the communities where our investees operate.
1. When did your organization start using the PPI, and why? What was the need you were hoping to address?
Informally, the PPI has always formed the basis of baseline surveys/assessment we conduct during due diligence and prior to closing investments. We do this because it aligns with the requirement as an impact fund to track metrics that enable us to monitor impact on our Target Class beneficiaries (smallholder farmers cultivating two hectares or fewer who supply products or services to investee companies or derive high-quality products or services from same and low-income persons who get access to jobs by virtue of the investments we make). 
2. How does your organization use the PPI? To measure poverty outreach? To improve social performance (targeting or product/service design)? To track changes?
We integrated the PPI into projects for two investees. The first is SeKaf, a social enterprise that produces organic Shea butter and personal care products. The PPI helped us determine the reach of the company in poor communities in an impoverished region of Ghana. We gathered the data in a broader effort to determine the extent of female participation in the supply chain and collect demographic information when registering new Shea collectors (part of the company's organic certification effort). For Agricare, a compound animal feed manufacturer, the PPI was integrated into surveys designed to capture customer feedback on product and service quality, as well as feedback from smallholder farmers engaged for a pilot maize outgrower project.
In both cases, planned follow-up surveys will help track changes in data for both the supply and demand sides, which can potentially impact company strategy.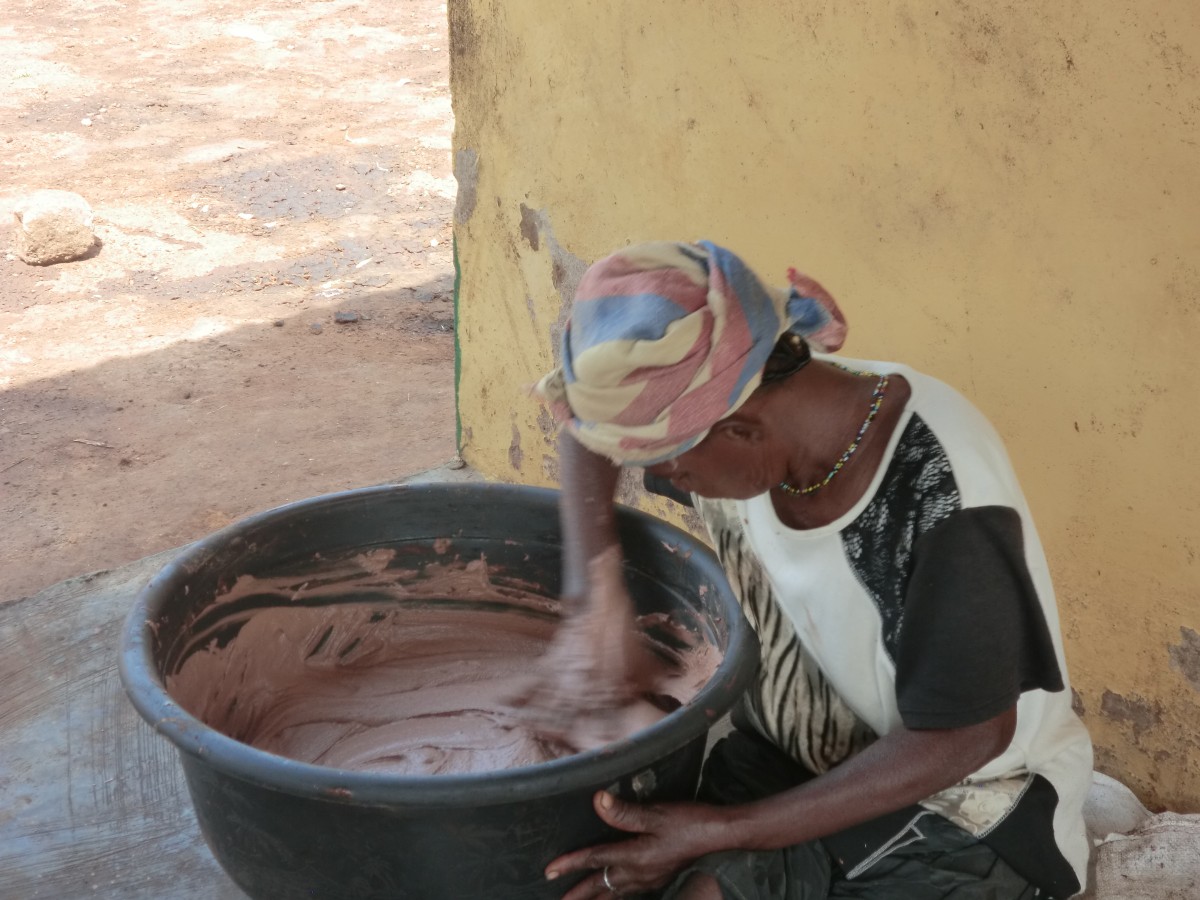 Injaro investee company, Sekaf, Ghana
3. Does your organization collect PPI data directly from households, or do you get PPI data reported to you from partners/investees?
Generally, once we have agreed on metrics to be tracked with investees, companies report on these metrics monthly. However, there may be projects as outlined above where third parties collect information directly from households to validate existing data. 
4. What did PPI data tell you that you didn't already know? What actions has your organization taken as a result of what you've learned from the PPI data? For example, have you made changes to your product offerings, your client base, or your business model? Or chosen to invest or partner with organizations differently?
PPI data has reinforced what we know to be typical or common for beneficiary groups within our Target Class. The use of the PPI has allowed the Fund to refine assumptions and impact projections made prior to finalizing investments agreements, and has enriched key elements of agreed business plans that serve as guiding documents for value creation post-investment.
5. Is the PPI helping you to achieve your goals? What impact do you think PPI has had on your organization and/or its beneficiaries? How many people do you think have benefited from your organization's use of the PPI?
The PPI is a helpful tool that affords both investees and us as a fund manager the opportunity to get a more accurate picture of the impact potential of investments. For beneficiaries, a more realistic assessment by investees and investors leads to better planned BOP interventions that achieve real impact for low-income households. For investees and investors, milestones set are more realistic, achievable, and perhaps even reproducible by others in the ecosystem.
6. Has the way your organization has used the PPI evolved, or does your organization have plans for it to evolve in the future? If so, why and how?
We are moving from the use of the PPI as a baseline assessment or survey tool to using the PPI as a basis for value creation. We believe that the pilots funded by the DFID Impact Programme, which some of our investees have benefited from, make the case for PPI-integrated projects that deliver results that can meaningfully impact company strategy. The resulting empirical data and analytics have the potential to drive improvements in product and service quality, customer engagement, production operations, and so on.
0 Comments