Field Report: The PPI is Building Momentum in Latin America >
sergio.correa
•12/19/12
• 0 Comments
It is always exciting to attend an event where organizations that target entrepreneurs come together to resolve common problems and plan for the future, especially when those organizations have the altruistic mission to target poor entrepreneurs. My second visit to "Foro Interamericano de la Microempresa – FOROMIC", organized by the Inter-American Development Bank (IDB) in Bridgetown, Barbados, showed me how these organizations are using the PPI and what challenges and successes they have experienced.   As the PPI Product Specialist for Latin America and the Caribbean, I have been interested to see how the PPI is becoming the standard poverty measurement tool for pro-poor MFIs and other poverty-focused organizations.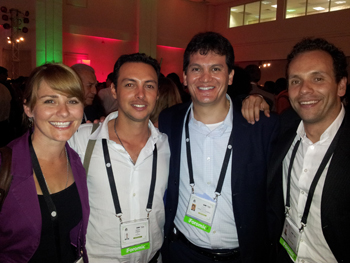 From left to right: Grameen Foundation's Stephanie Simpson, Sergio Correa, Carlo Peysack and Gabriel Alba at FOROMIC, 2012
With over 74 organizations using the PPI in LAC—some since 2009 and others for just 6 months—I have had the chance to witness different approaches to the tool and counsel diverse organizations. At FOROMIC, I spoke with with PADECOMSM from El Salvador and Proempresa from Peru about their first results from a PPI pilot; with Edpyme Nueva Vision from Peru on how they are working with Oikocredit in order to align their corporate strategy with SPM, and how to include the PPI into these efforts; and with Fundación Capital from Colombia about how they recently included the PPI questions in a platform that uses iPads for training extremely poor Colombians in basic finance. 
Genesis Empresarial—the biggest MFI in Guatemala—mentioned the PPI in a conference named "Technology and Alternative Channels for Microfinance." Carlos Herrera, the general manager, said that the PPI was a very effective tool for Social Performance Management (SPM) and that their technological platform was able to report PPI results in real time. This not only shows how MFIs are using the PPI to manage their social performance, but also how the tool can be integrated with technology.
Some organizations are planning to use PPI data for one of its most advanced purposes: tracking the progress of their clients over time. I had the chance to talk to two organizations which are preparing themselves for this task, including Credimujer- Movimiento Mauela Ramos.  Gloria Diaz, the general manager, is very excited to be able to do this after using the PPI for three years, and we discussed best practices for this process.
Not all PPI users are MFIs. I spoke to a government organization that is considering using the PPI to monitor institutions with social missions, and although this was my first conversation with this organization I was able to explain how the PPI will dovetail perfectly with their purpose. Other organizations using the PPI are also part of the microfinance sector but go beyond it, such as Freedom from Hunger. I recently spoke with Lisa Kuhn Fraioli, the Vice-President for Latin America, about how different organizations in the sector are developing complementary services to microfinance like education, health, and livelihoods, and are using tools such as the PPI or the food security survey to measure their results. We both concluded that the use of these tools has grown in the sector but that we have to try harder to help these organizations go beyond collecting data to actually analyzing data in order to make strategic decisions.
I have also had conversations with organizations which are unsure about using the PPI. These conversations were focused on explaining the benefits of using the tool. For example, one organization had developed their own poverty tool but was interested in using the PPI because their survey's larger size had proven to be a problem for some of their partner organizations. With fewer questions, the PPI permits organizations to diagnose poverty not only using national poverty lines but also international poverty lines, allowing for a simpler yet highly effective assessment solution.
All these meetings and conversations are not only enriching for the institutions who want to learn more about the PPI, but also for us as PPI trainers and promoters because they help us better understand this sector and design products in a way they can address organizations' needs. For example, one of the things discussed with participants was the fact that for the majority of MFIs it is hard to reach extremely poor people. In fact, recent impact studies by the FOMIN suggest that loans can be prejudicial to extremely poor people and that the first approach to this kind of population should be by savings. I think that the PPI can contribute a lot in addressing these theories. Data gathered by PPI users can shed light on the issues involving poverty and finance.
0 Comments